What can I say? Except that it is perfect.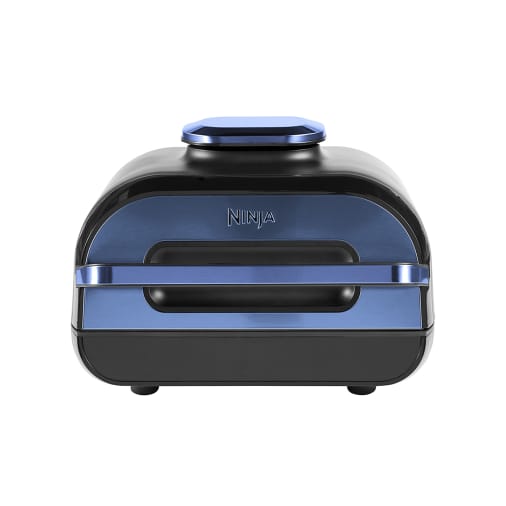 This is a Ninja Foodi Max Air Fryer and Grill and we got it for a bargain at £170. If you shop around you can get it cheaper than the £240 price tag, but even if you cannot it is still a perfect item to add to your kitchen.
We had bought a previous Air-fryer as both Mr Points of Sue and I are watching what we eat and how we cook it and the Air-fryer is perfect for crispiness too. The problem with the front loading one was that the handle could break or in the case of us it just seemed to do an awful lot of death rattling before it finally gave up, and 2 in a year was not good value for money.
The look of horror on the face of Mr Points of Sue Jr when he realised that he favourite cooking item was broke was painful to watch, so being the easy parents that we are decided that we needed to have another one. We had already made up our minds to buy one but our son is so good at research that he had already found one and within minutes it was bought online and at our home within a couple of days.
It is a lot easier to use than the previous one and all the items come out for cleaning. It has a large insert that catches the fat from any items you cook, and it has a grill plate where you can place the items to cook. (You should have seen the fat come off the oven chips), and finally the big grill itself where you can place the meat you want to cook and to say it cooks it perfect is an understatement.
Unlike the Air-fryer this warms up first before you add your food and it is easy to follow instructions on the front. It gives you the option to add or minus time and heat and it gives you choice between air-fry, bake, grill or oven and it just leaves it crispy.
I cooked Italian herb chicken in it and it was lovely and only took 25 minutes and it was perfectly cooked and unlike the one cooked in the oven there was no fat, but it was just juicy and delicious. Along with that roast potatoes were added and they were really crispy and light. We all enjoyed it and all included the family, the cats and the dog. It was perfect.
Apple pie cooked in it after that and it was cooked piping hot. We have cooked beef, burgers, sausages, bacon, jacket potatoes and all sorts in it and the food has no lingering fat taste and it is crispy (especially the chips), and it is saving calories which is hugely important to us.
So, if you want to cook that perfect meal then this is the best way to do it as it is just a fantastic oven that grills, bakes, air-frys etc and there is not a chance I am going back to the oven now.
It is lightweight to use as you lift up the top of the Ninja with the big handle (not the flimsy one of the previous air-fryer) and place the item in…its that simple and then you set your time and heat and that's it. All the items are dish-washer proof although we tend to clean it in the sink with fairy liquid as it just washes it perfectly. Plus, we had actually discovered that the use of the dishwasher costs in excess of £30 a month and in this day and age when the costs are continually going up, it is an extravagance that we don't need. £360 a year to run a dishwasher is a no no and the only day it will be used….Christmas Day. So, as well as cutting the cooking time in half with the Ninja Foodi we are also cutting down on the other running costs.
Win, win all round and if you are looking for this very pleasing to the eye addition to your kitchen then I heartily recommend it and you won't be disappointed with the results. It also provides you with a cook book on cooking times but like everything it is easily picked up on.
Just think folks…crispy chips, burgers not dripping in fat and sausages cooked to perfection. Beef cooked to perfection and chicken that is juicy but not fatty. Who needs anything else.!!!!