It seems that well known Liberal, the man who the bleeding hearts have deemed the saviour of America after Orange Man Bad has now decided to open up Guantanamo Bay even further for the Haitian refugees. Yep the terrorist camp is going to be opened up forther for the surge in refugees in Texas. Seems it is ok to lock up people to the liberal loons when Joe does it!
The Biden administration is to reopen the migrant detention camp near Guantánamo Bay prison. Immigration authorities seek bids for contractors to run migrant operations center on the naval base, in the wake of a surge of migrants and asylum seekers on the southern border.
The Immigration and Customs Enforcement (Ice) bureau is inviting tenders for private contractors to run the Migrant Operations Center on the US naval base, close to the prison compounds housing the remaining 39 detainees held in the "war on terror".
The migrant camp was first set up in 1991 and was intended to hold Cuban asylum seekers. Ultimately it was used to detain about 34,000 Haitians and roughly the same number of Cubans until it was wound down by the Obama administration. It has not been used to hold migrants since 2017.

Ice is looking for a private contractor to run the centre and provide unarmed custody and security officers.
"At least 10 percent of the augmented personnel must be fluent in Spanish and Haitian Creole," states the advertisement, first reported by NBC News. It was placed on the Sam.gov government contracting website on 17 September with a deadline for offers of 1 October. Neither the Department of Homeland Security, which oversees Ice, nor the National Security Council had responded to a request for comment by Wednesday evening.
The advertised "contract opportunity'' states: "The facility has a capacity of 120 people and will have an estimated daily population of 20 people, however the service provider shall be responsible to maintain on site the necessary equipment to erect temporary housing facilities for populations that exceed 120 and up to 400 migrants in a surge event."
The contractor would have to assemble tents and cots for a surge of migrant detainees at short notice. "In addition, the service provider must maintain a roster of at least 50 individuals who meet the minimum requirements of the unarmed custody officer job classification and have a viable contingency plan to deploy these individuals within 24 hours of notification," it says.
The planned reopening of the site comes at a time when an estimated 14,000 migrants have crossed the Rio Grande over the last two weeks. Most are Haitian and the crowd includes thousands of women and children, fleeing the recent chaos caused by a powerful earthquake compounded by the political turmoil created by the assassination of President Jovenel Moïse's assassination.
The Biden administration has stepped up deportation flights to Haiti but has come under severe criticism from human rights groups who say Haitian migrants and asylum-seekers are being deliberately flown back into mortal danger. https://www.theguardian.com/us-news/2021/sep/22/guantanamo-bay-migrant-camp-biden-reopen?utm_term=6c298c082ec58c2c3002439d768be974&utm_campaign=USMorningBriefing&utm_source=esp&utm_medium=Email&CMP=usbriefing_email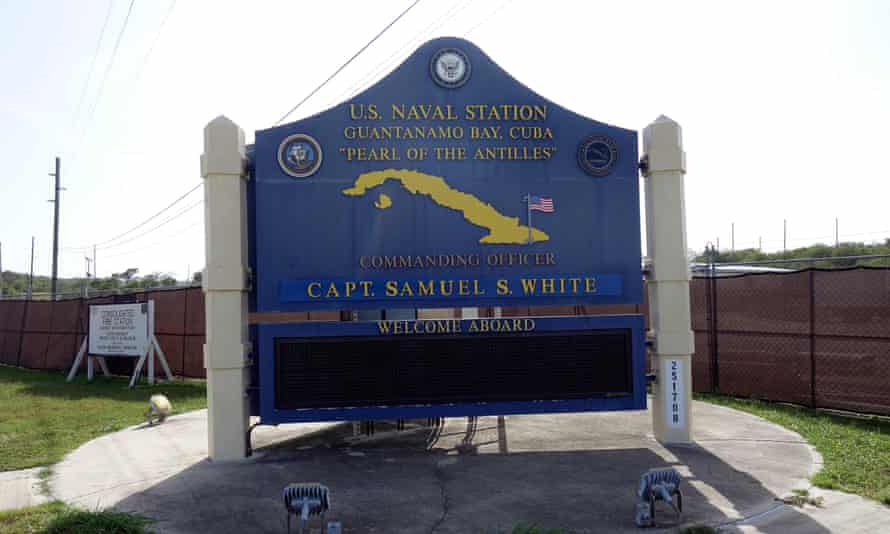 Final Thought……Can you imagine the uproar if President Trump had done this? My god the left wing mainstream media would have been all over this for 24 hours a day and saying what a monster he is. Yet, from these very same people….NOTHING….The hypocrisy of the lying media is breath-taking. They would sooner lie for their narrative in the United States than tell the people the truth. This is really not acceptable and is seems that President Trump was right again and again. They are fake news as they are faking the fact that Sleepy Joe Biden and Cackling Kamala have lost total control of the Border, infact her only visit was over 750 miles away from the real issue, and Biden has never been….NEVER….. and now to try and stop what they created, they are going to lock people up in a terrorist camp. Wow….how liberal of him.
It seems the liberal looney left accept what Biden and Harris are doing without question. My god CNN didn't even mention the fact that the Commander in Chief and his useless Generals murdered an innocent family of 10, including 7 children. Yet they jump on the false narrative of the Border Force with large reins on their horses trying to crowd control. It was and is a lie to suggest that they were whipping people as having looked further into it, they were not whipping them and the only way to control such a surge is on horseback, and yes they did have very long reins…but no whips and how bad is it that Psaki can bash those who are trying to fix the mess created by this Administration. Biden should have been thankful that the Texas Governor didn't deploy the military and tanks……
Jen Psaki and the Press Room will do their usual and lie throughout when this comes out and that Press Room is nothing more than a scam to cover up a totally inadequate old man in Biden, and a Vice President who likes to play the game Where's Kamala……it is the lies I cannot stand with these people and the fact that they are blaming Trump again and again for their lies, their mistakes and their murders. Biden has totally dismissed this as he has not even had the guts to come out and apologise for murdering this family of 10. He is a coward. If Trump had done this…my god the liberals would be howling, wailing, screaming and marching….but from the loons….nothing…just quickly bury it…..
It seems they like to act at grown ups till found out and then they chuck a tantrum and state but its the Orange Man Bad's fault, but Biden said if it happened on Trumps watch then he is responsible, well this is happening on Biden's watch and he has to own the fact that he has failed on the border, failed in Afghanistan resulting in the murders of 10 innocent people, the murders of 13 US servicemen (remember the bored clock watching as they made their sad final journey back to the United States of America), he has failed on the Covid roll out, he has failed to produce the jobs that he said he would, and he is planning to inflict trillions of dollars worth of debt because he has an idea of what the democratic utopia is ….and this includes revamping the golf course and country club used by democratic mouthpiece Nancy Pelosi.
Wake up America as your liberal out of their depth President and Vice President are making a mess of everything they touch. It is turning to sludge never mind gold and the next generation of Americans will be the ones to pay for this idiotic and blatant criminal handling of the country.
It seems to the looney liberal and the truth hiding, lying mainstream media….its ok when Joe does it.