Do you remember when they tried to impeach Trump for a phone call to the Ukraine asking for an investigation into Dodgy Hunter Biden? The man who with no history of working in gas and oil was suddenly given a job worth $50,000 a month, oh and don't forget Pelosi's son too…he got a job on there too and Trump was determined to get to the bottom of it. 
What did Pelosi do? Demand an impeachment because of the "phone call", yet when it comes out about Biden and the then Afghan President where he tells him to lie to the people about the fall of Kabul, Psaki states that is a private phone call. Well, if you go off their stance….Biden needs to be impeached.
Pelosi did it for nothing more than to distract from her son being on the board, again a man with no training in the gas and oil industry but where his name gave access.
I seem to remember Psaki stating…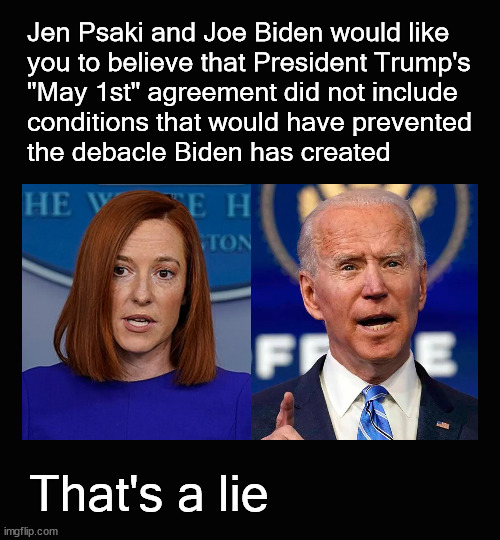 Psaki was bashed for her double standard in dealing with political stories, especially when her own boss is involved in the mix. "But now you refuse to answer questions on Biden's call with Ghani? What happened to the promise that this administration will be about 'truth and transparency?" political strategist Vanessa Castro commented underneath the resurfaced tweet.
Another social media user said, "Man if these people were smart, they would have taken all their tweets down before flipping the script. want to circle back on this one Jen???" One more wrote, "Weird how you don't want to share a phone call POTUS made now… I wonder why?"
The next remarked, "Really. This same thing got trump impeached." Another quipped, "Ok…I think I figured it out This should solve it all DO AS I SAY NOT AS I DO." One more said, "When the most important qualification for a job is to be able to make straight face when u lie and running around with your word, she is what you get." A person reacted with, "Going into details private call? Double faced huh." One commenter wrote, "This didn't age well." Another said, "I'd ask how do you keep every story straight, but that answer is obvious. You kind of don't." One more stated, "Stop defending the indefensible. Stop being shameless."
When the lies start from the Press Secretary and go up, then you know that the whole Administration is not trustworthy and they would sell your soul for their power, and by the looks of things they already have.