Today we are going to concentrate on Hebes.
Hebes are a marvellous shrub. You can pick them up from any garden centre and I picked mine up for £5 each.
I decided when I was planting them to give them each their own box as I wasn't sure how big they were going to grow and it was the right decision to make, because as you can see they can grow to an enormous height and width.  The flowers in the summer are a purple lavender colour and smell and the bees love them.
One of the main reasons I chose a Hebe in the first place was because as one of my first plants it was very easy to maintain, and they grow in any well drained soil and in a sunny spot.
One of the lovely things about a Hebe is that their leaves are green all year round and add a lovely splash of colour in winter.
They are ideal for costal areas as well as urban areas and they are really easy to maintain, if you are going to get one for a coastal region then go for the silver colours.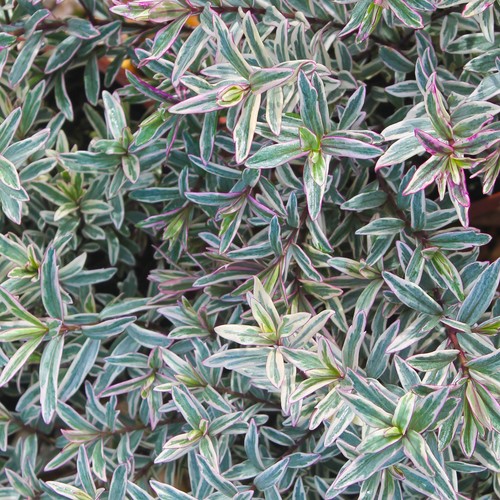 They make a great border plant, or like mine look stunning in a plant pot and they attract so many bees and butterflies.  I can hear the happily buzzing around the plants and they are a hive of activity for spiders, other bugs and slugs and snails.  They are not affected by them either and they do not fall prey to anything that can destroy it.
I started off with one plant and have managed to get cuttings and they have taken beautifully.
When you are picking a Hebe you can do so based on the colour of the flowers but when I started I did not realise that, and mine are a mixture of purples but you can pick colours such as mauves, pinks, and whites.  They can be on long or short spikes and do not need anything other than trimming at the end of the season.
When you have picked your Hebe find a suitable pot.  Although, I have put two in the ground now and they have taken but from the cuttings I have four in containers.
I purchased them from a garden centre as they tend to be of better quality, and I had prepared the soil the day before. The was a mixture of soil and peat at the time although during the last 3 years I have added compost and it does help it grow.
So long as they are watered generously but not too much so that you drown it but cover the young plant in the bark and shale as it needs protecting from day one. Do this and it will grow for you.
Turn the soil over as often as you can without disturbing the plant as it keeps the soil fresh and also allows the moister soil to come to the top. Don't do it though if spiders etc have taken to living in there as hebes can become a home for all sorts of little creatures and spiders just love them.
During the spring and summer months there is little to do except enjoy the plant, it could shed some during the summer months but not many to start with but at the end of summer cut away the dead leaves, and where possible trim the Hebe down as that will encourage it to grow thicker. 
That's it…. that is all you have to do, and you will get a beautiful looking plant. Just keep the soil well fed and the plant watered. Give it plenty of space and you will end up with something stunning all year round and for many years.