It seems the President of the United States of America has sent out a memo trying to find volunteers who will go the border with Mexico and "babysit" those infected with Covid. Biden begs for volunteers to babysit COV-infected foreigners at the border (independentsentinel.com)
The Acting Director of the OPM (Office of Personnel Management) is wanting people to go and look after children at the border who are infected with Covid. Now as a mother my heart aches for those children who are not with their parent and who are unwell…but why are their so many unaccompanied children?
They are there because Biden opened the border without any thought and just to show he was different from Donald Trump. He has not thought about those coming in nor those people in the United States who will have to face the fact that are people coming in illegally and with a virus in a time of a pandemic. This is not good for those coming in or those who live there.
It is reprehensible that he could do this without regards of where are these people going? Who will pay? Is there any work available and can the country afford it? Do they have sufficient accommodation for children available? Is there schooling? Dietary needs etc? Are there enough sanitary products for young girls??……there is nothing except being locked up in cages like criminals…this is child abuse.
Maybe the best thing to have done was keep the border shut whilst the virus is rife but send more money to Mexico and to invest in the South American Countries as no one in their right mind wants to be separated from their children. Biden is doing it as it is voters coming in but what he does not want the people to see are the ever growing cages these sick children are kept in…
Want to see what the Biden administration has kept hidden from the public in the border crisis? Give House Democrat Henry Cuellar some thanks for this leak to Axios, which published pictures of the "pods" in which children are being warehoused. It looks like the only change between the Biden and Obama administrations is replacing chain link for plastic — and stuffing more kids than ever into these cages.
These are of course the scenes that Biden does not want you to see and he has restricted access for the main stream media. 400 minor children are being kept in cages like this.
Exclusive photos from inside a U.S. Customs and Border Protection temporary overflow facility in Donna, Texas, reveal the crowded, makeshift conditions at the border as the government's longer-term child shelters and family detention centers fill up.
Why it matters: Each of eight "pods" in the so-called soft-sided facility has a 260-person occupancy, said Rep. Henry Cuellar (D-Texas), who provided the photos to Axios to raise awareness about the situation. But as of Sunday, he said, one pod held more than 400 unaccompanied male minors.
Because the Biden administration has restricted media coverage at housing facilities, images like these offer a rare window into conditions.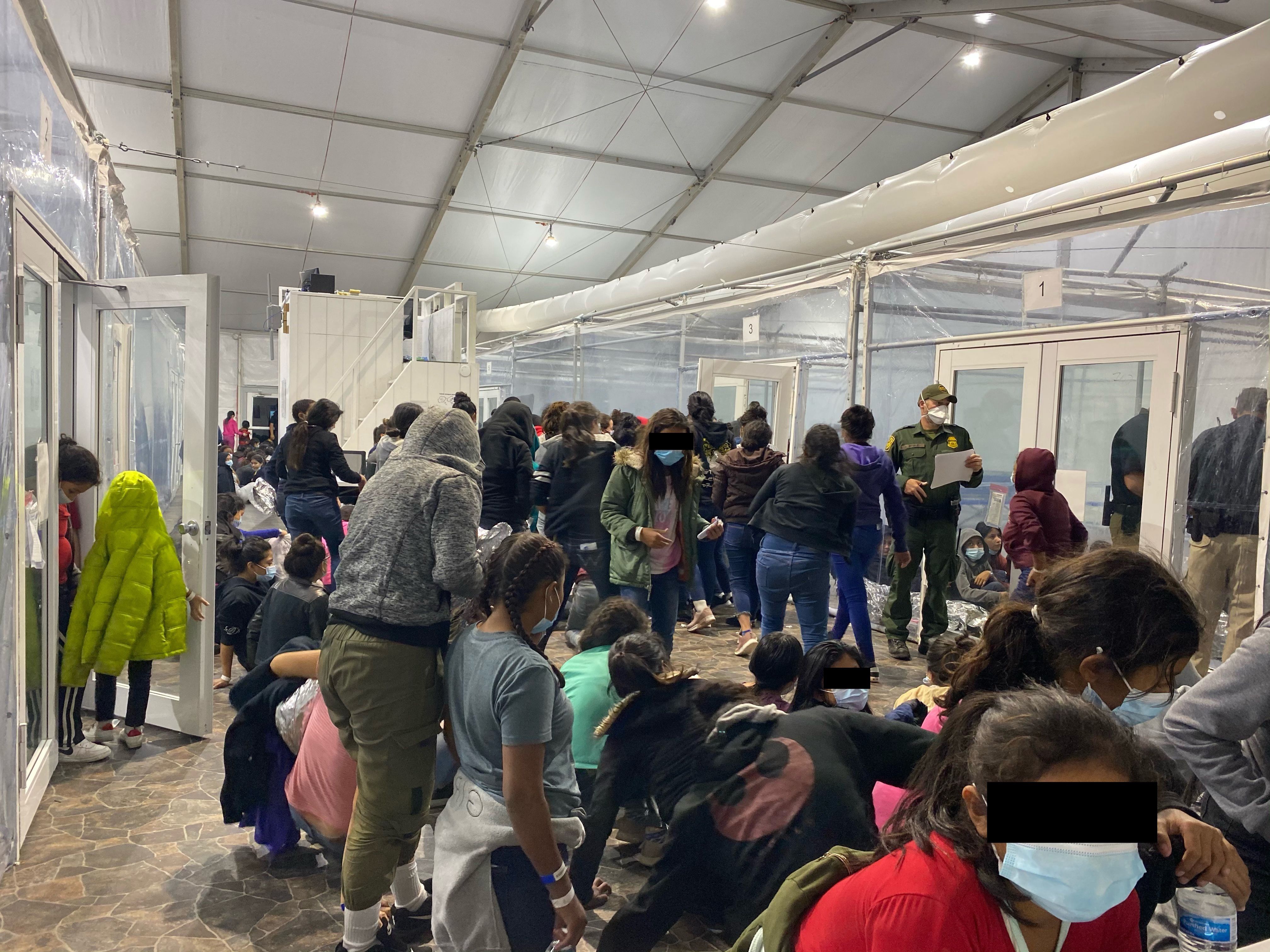 It seems that the Biden Administration is determined that they will only show the American Public what they want them to see, and to use the smoke, mirrors and lies to hide the fact that they are committing worse abuses than they accused Donald Trump of. Are the left going to stand up for the children who are being abused by the Biden Government. Kamala Harris even laughed when she was asked was she going to visit…almost a how dare you expect me to do such a thing.
VP Kamala laughs at question about visiting the US-Mexico border – YouTube
Video of Kamala Harris laughing at the visiting the border question.
GOP Senator to Kamala Harris: "Instead of laughing, get down" to the border – YouTube
Republicans Senator Ted Cruz wrote to President Joe Biden after after access was refused to both the press and fourteen other senators who visited the border.  'The American people are beginning to understand the gravity of the situation,' Cruz wrote. 'But it is not enough for members of the Senate to see what is happening — the American people must see. That is why I requested that members of the media be allowed to join us. But your administration clearly and emphatically refused to offer press access.' 'This is outrageous and hypocritical,' said Cruz who accused Psaki of reneging on the administration's vow of 'transparency'.
'Denying the press the ability to observe, film, and report on the conditions at the border is not openness or transparency — it is hiding the truth from the American people,' added Cruz. 'The press and the American people deserve more than denials and excuses from a podium.' 
Shame on those who voted for these two as they are out of their depth and children are suffering because they want to hide the reality that they are failing and failing from day one. This is child abuse being committed by the American Government on the most vulnerable in any society.