I am watching a programme on Amazon called Silent Veil. It is about women who have been victims of acid attacks in Pakistan and it is really moving.
There is a lady called Massarat Misbah who one day was visited by a young girl who had been the victim of such an attack as she runs a beauty salon, and from that one encounter she has started a charity that helps these poor women get their lives back and it stands at over 500 who are registered to get surgery, and over 100 girls who have had treatment. What a truly amazing individual she is.
With the help of Italian surgeons they are pieced back together and I must admit it brought me to tears. Not only the poor disfigurements that these women have but also about the amazing people who are prepared to help them and will continue to.
I never ceased to be amazed at the good in people and this will triumph over evil because good people will make sure they do. I think it is a horrid thing to do and to disfigure someone because of jealousy or rejection really is the lowest a person can sink.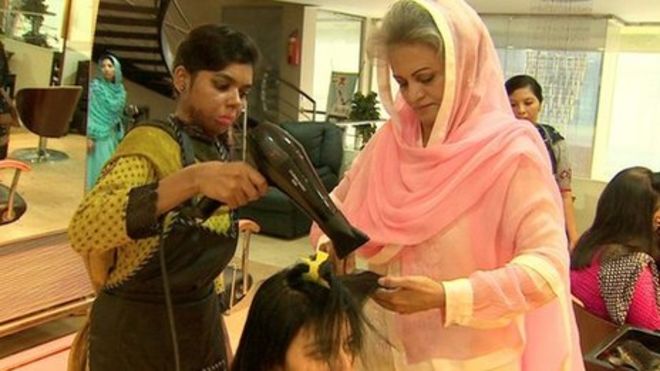 Bushra Shafi is one of the most experienced beauticians. She is also an acid attack survivor. Bushra was attacked by her in-laws as punishment for not paying enough dowry money.
"My husband, brother-in-law and father-in-law poured acid on me – my mother-in-law tied me down from the neck. They didn't take me to the hospital for 10 days and my face swelled so much it was just a big slab of meat," Bushra said.
Bushra went to Musarat for help. Her eyes were burned shut, her nose was gone and parts of her ears had melted. She spent years undergoing operations and now, after 150 of them, she has a chance to start a new life. "I'm grateful," she says. "I've got my eyesight back, my hearing back, I have a nose I can breathe from, a tongue, I can speak again." The scars on her face cannot hide her smile as she speaks. (BBC By Shaimaa Khalil)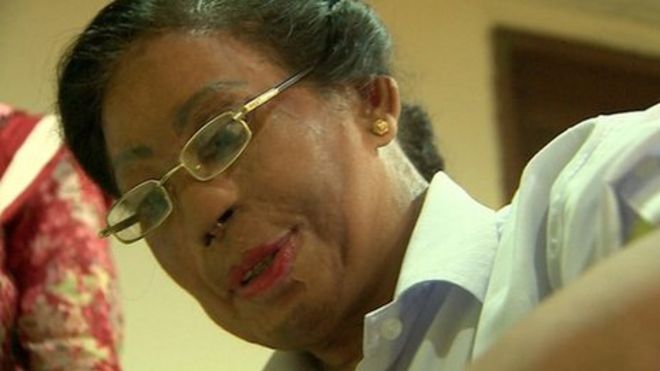 This amazing woman has set herself up to eradicting this most awful of crime and in March 2010 was awarded the Woman of Courage Award from the President of Pakistan, and she has won many humanitarian awards over the years.
If you want the proof that good can conquer evil then please please please watch this programe and see this very brave women, and this amazing woman who really is an angel on earth.